Hola, hola, pequeños y pequeñas monstruitos y monstruitas, aquí la bruja más malosa al habla
. ¿Qué tal estáis? Yo bien bueno hoy he tenido universidad así que algo cansadita pero por lo demás muy bien :D. Ya tocaba actualizar y que mejor manera que hacerlo hoy con este motivo de la fiesta de halloween. La verdad es que aquí en España cada vez se está introduciendo más esta fiesta aunque aquí donde yo vivo no es muy común disfrazarse ya que somos tan raros que nuestra fiesta de disfraces se hace en Nochevieja, pero… eso será en otro momento jaja. ¿Os disfrazareis de algo esta noche? O ¿Veréis alguna película de terror? O quizás os dediquéis a hacer calabazas con diferentes formas
… pues hoy en esta entrada os daré algunas ideas sobre disfraces gyarus, películas, modelos de calabazas monos… y por último os dejaré un video gracioso
. Así que… ¡No dejéis de leer!
Hi, hi, small monsters, here the most evil witch speech
. How are you? I'm a bit tired but otherwise well: D. It is time to Update and what better way to do it today with this occasion of the celebration of Halloween. The truth is that here in Spain is introducing increasingly more this party but here where I live is not very common dress and we are so rare that our costume party is New Year's Eve, but ... it will be another time haha. Do you dress up something tonight? Or will see a horror movie? Or maybe you dedicate yourselves to do pumpkins in different shapes
... for now this entry will give you some ideas on gyarus costumes, movies, models of pumpkins cute ... and finally I leave you a funny video
.

So... Don´t stop to read!
Comenzaremos con los disfraces gyarus que pueden daros alguna idea de última hora en el caso de que no sepáis como ir esta noche.
We start with the costumes, if you do not know how to go tonight ... this is your solution.
Popteen Noviembre 2011 /
Popteen November 2011
Popteen Noviembre 2011 /
Popteen November 2011
Popteen Noviembre 2010 /
Popteen November 2010
Popteen Noviembre 2010 /
Popteen November 2010
Ageha
Ageha
Popteen

Y ahora os dejo unos vídeo-tutoriales sobre algún maquillaje algo más terrorífico que los disfraces kawaiis que tenéis arriba, podéis mezclar las dos cosas *O* seguro que le da un toque mono y terrorífico a vuestro disfraz.
And now I leave you a few video-tutorials on some makeups more terrifying than the kawaii costumes you have above, you can mix the two things *O* certainly adds a cute and terrifying air to your costume.
Hablando de cine os voy a hacer una lista de las películas de horror más vistas y que en un principio más miedo han dado. Espero que os puedan servir a la hora de elegir cual ver.
Insidous.
Rec.
La niebla de Stephen King.
Silent Hill.
30 días de oscuridad.
El exorcista.
13 fantasmas.
Pesadilla en Elm Street: El origen.
Presencias extrañas.
Paranormal activity.
La maldición.
El grito.
El resplandor.
La semilla del mal.
Cuando llama un extraño.
Retratos del mas allá.
La matanza de texas.
2 hermanas.
Halloween: El origen.
Ouija.
El último exorcismo.

Speaking of movies I am going to make a list of horror movies. I hope you can serve when choosing which to see.
The fog.
Silent hill.
30 Days of night.
The exorcist.
13 ghost.
A nightmare on Elm Street.
The uninvited.
Paranormal Activity.
The grudge.
The Shining.
The unborn.
When a stranger calls.
Shutter.
The Texas Chainsaw Massacre.
A tale of two sisters.
Halloween.
Witchboard.
The last exorcism

Y para terminar os dejo algunas ideas sobre como decorar vuestras calabazas. Espero que puedan ayudaros.
And finally I leave you some ideas on how to decorate your pumpkins. I hope they can help you.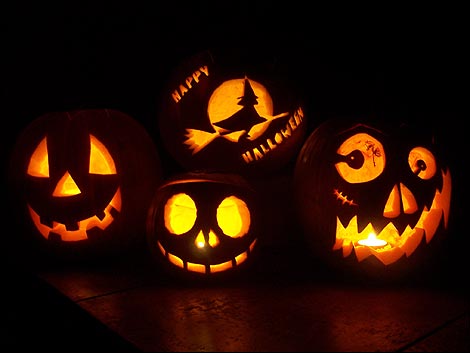 Video final

/

Final Video

¡Feliz Halloween! Deja tu comentario o una horrible maldición caerá sobre tí.
Happy
Halloween!
Leave a
comment or a
terrible
curse
will fall on
you.